COMMERCIAL LAWN MOWERS FOR SALE MOORE HAVEN
SERVING ALL OF: MOORE HAVEN, LABELLE, LAKEPORT, BELLE GLADE, CLEWISTON & OKEECHOBEE
Wolff's Lawn Machines has you covered when shopping for a Commercial Lawn Mower or Residential Lawn Mower. We offer Grasshopper, Scag and Toro in stock at all times. If you are looking for a certain make and model we will order it for you. We also sell a wide variety of Residential Push Mowers and Service or Repair all the major brands no matter what make or model. Take the time to visit our showroom to see if there is something for you.

We not only keep in stock a wide variety of lawn mowers but we also sell Jungle Jack-Mower Lifts, Jungle Rack Weed Eaters and Backpacks, Gorilla Lifts and a huge selection of belts, blades, trimmers and edger's.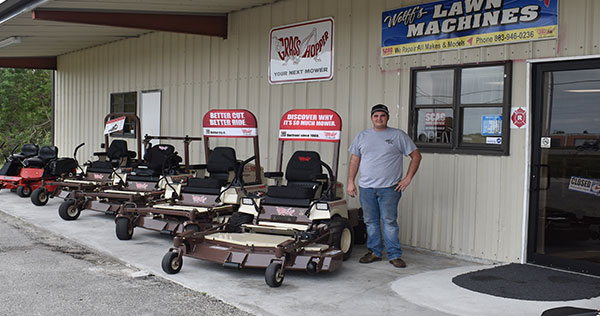 From Grasshopper to Scag and Toro Wolff's Lawn Machines sells, repairs and maintains all makes and models of commercial and residential lawn mowers. Below are just a few of the popular commercial mowers we carry daily in stock!
What You Can Expect From Wolff's Lawn Machines
Fully Licensed, Knowledgeable staff, Competitive Pricing and a love and passion for the Industry.