LAWN MOWER REPAIR MOORE HAVEN
SERVING ALL OF: MOORE HAVEN, LABELLE, LAKEPORT, BELLE GLADE, CLEWISTON & OKEECHOBEE
Wolff's Lawn Machines has you covered when it comes to servicing and repairing your commercial or residential lawn mower. We repair, service and warranty most the major brands. Whatever the make or model we can and will fix it. Whether you are having an issue with your lawn mower, trimmer, golf cart, back pack blower or edger we service your tools right at our location. If you need a certain part and we do not have it in stock we will order it for you.

The most common problem with mowers is when the carburetor is fouled. Either due to a problem with the priming pump to old gas. Below is a simple way to check for problems. Remember if you still Can't get it started either calls us up for a pick-up appointment or simple bring it on by and we will be happy to get your mower back to perfect working order!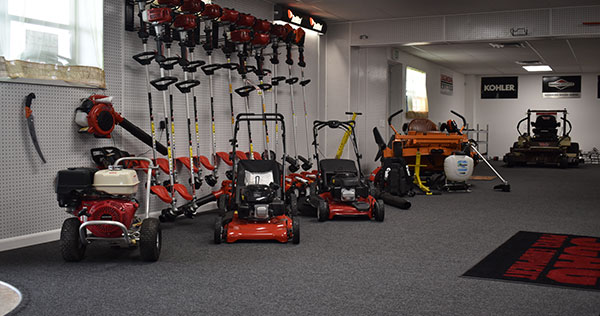 How To
Troubleshoot Your

Lawn Mower
Carburetors with primers represent a large majority of lawnmower and small engines today. They have primers to push or force air in the carburetor and in turn force gas through the center jet to make starting easier. Look to see if the primer is pumping gas in to the engine.

Things to check for if the primer is not working. This applies to several different types of engines. Check for holes or tears if you have a carburetor that has a diaphragm. (A diaphragm is a gas pump located in carburetors that have the gas tank and carburetors assembled together.) Replace the diaphragm if the diaphragm has a hole or has hardened or slightly slid over to one side, or if the engine will not run correctly and is skipping, not priming, or will not run at all.

With a float type carburetor, the bowl gasket Will not be sealed properly, and air will leak past the bowl gasket and will not prime.

If you have an air assembly primer box where the air filter box is connected to carburetor, your gasket will not be sealing correctly.
If there is a tear or a hole in the gasket, air will leak past it and will not force air in the carburetor which will not force gas through the center jet. Also your air assembly box Will have a crack and will be warped because it was over tightened. If so, replace it.
What You Can Expect From Wolff's Lawn Machines
Fully Licensed, Knowledgeable staff, Competitive Pricing and a love and passion for the Industry.